Alteia R2023.11 – Release Note
Summary
Feature improvements
User and Company Management
Geometry edition
Add a feature to a vector
It is now possible to add features to an existing vector file in Geometry edition mode.
Main capabilities:
Add points, lines, polygons (free shape), rectangles to existing vector

Add the attribute values to the new features
User value: possibility to fully edit vectors on the platform.
Example of use cases: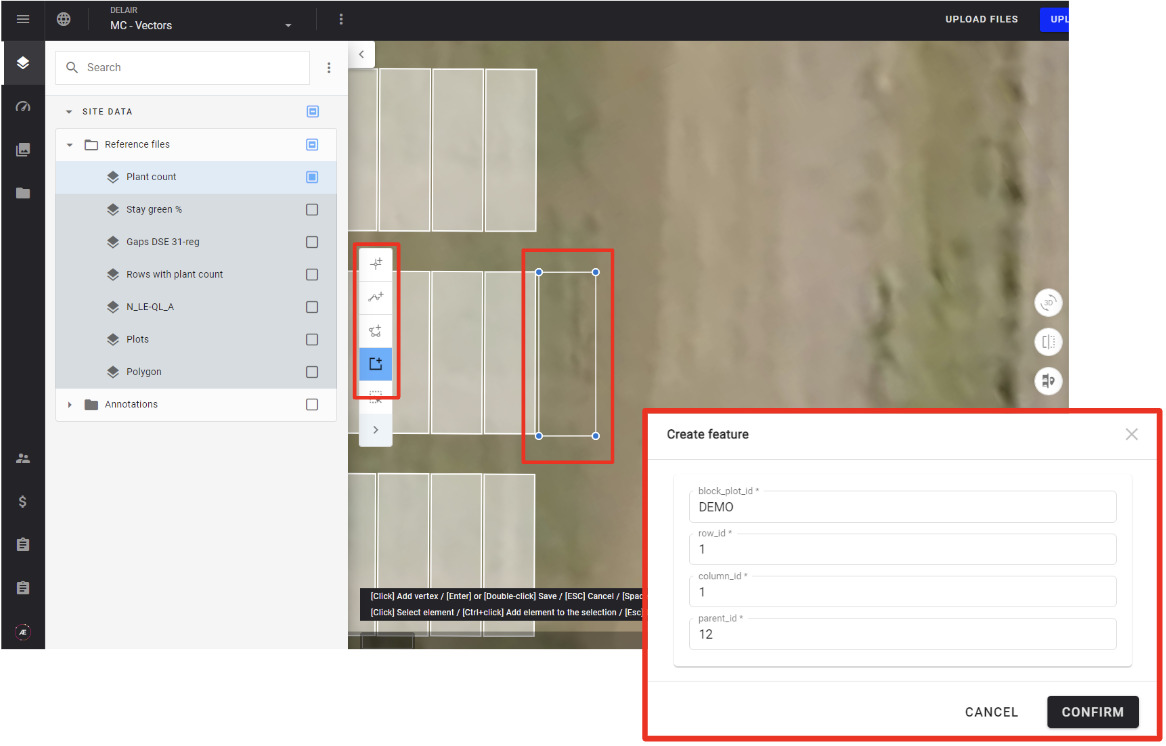 Add new exploration zone to mine plan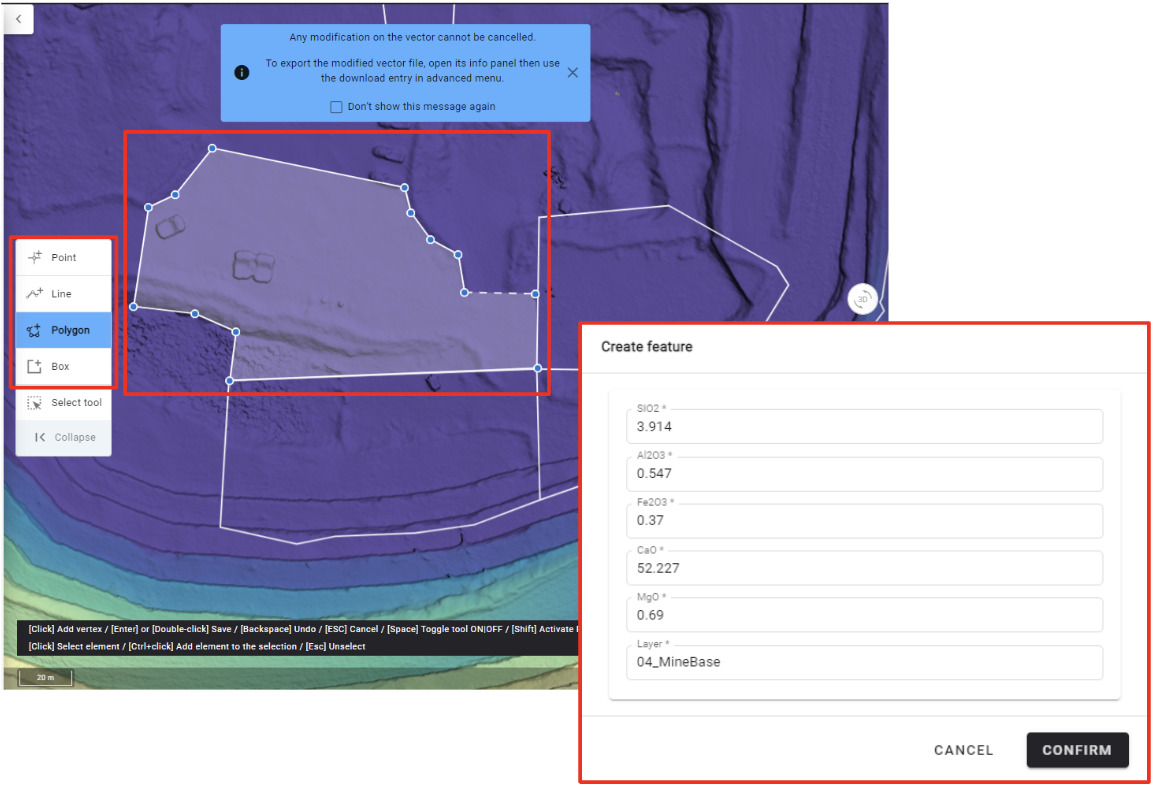 Geometry edition
Rotation tool
Rotation tool has been redesigned and it is now possible to rotate a selection using the mouse or entering a value in the corresponding field. 
The rotation degree is now displayed when using hand rotation.
Note: before the release, the rotation by hand and the rotation from a value were separated into 2 different tools.
User value : UI & UX improvements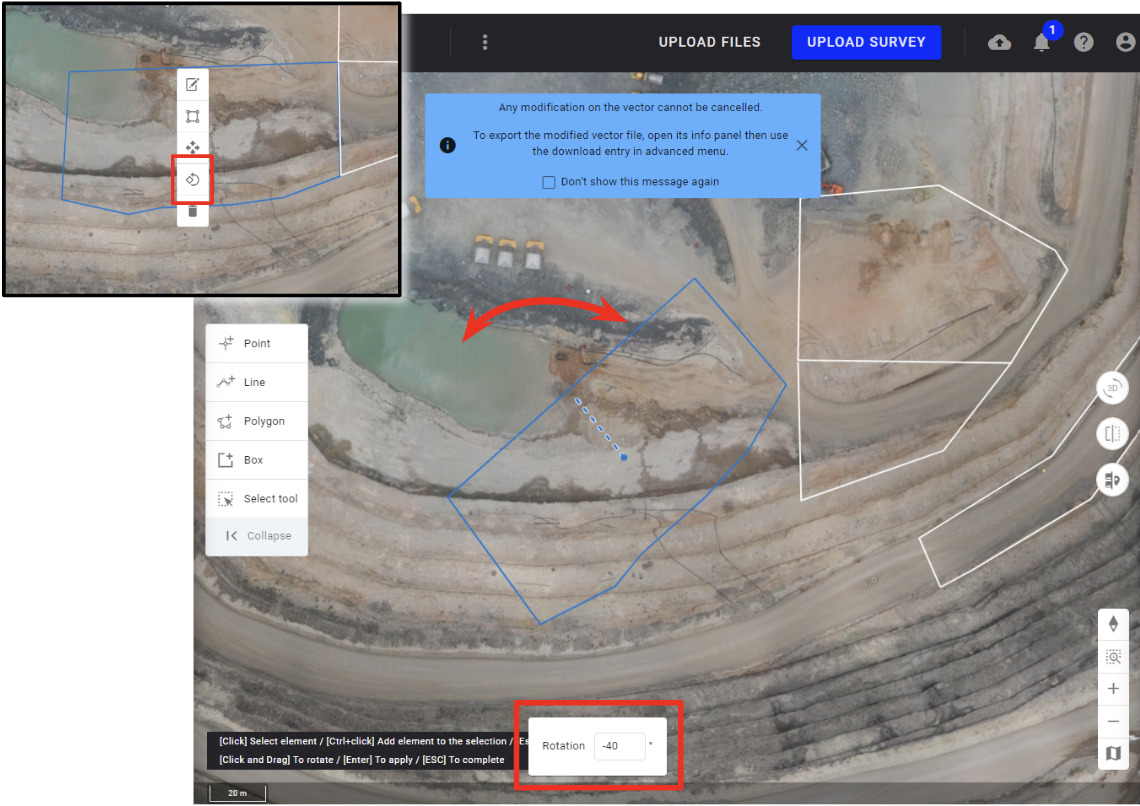 Measurement tools - 2D view
Improvement for 2D elevation measurement tools
If a DSM or DTM is actively displayed, it will be automatically selected to compute the measurement.

If a DSM or DTM in the survey matches the location of the measurement, it will be automatically selected to compute the measurement.

If no DSM or elevation raster is present, the SRTM background elevation layer will be automatically selected to compute the measurement.
User value: the platform's measurement tools are made more intuitive and predictable for the user by auto populating the most logical source for elevation data.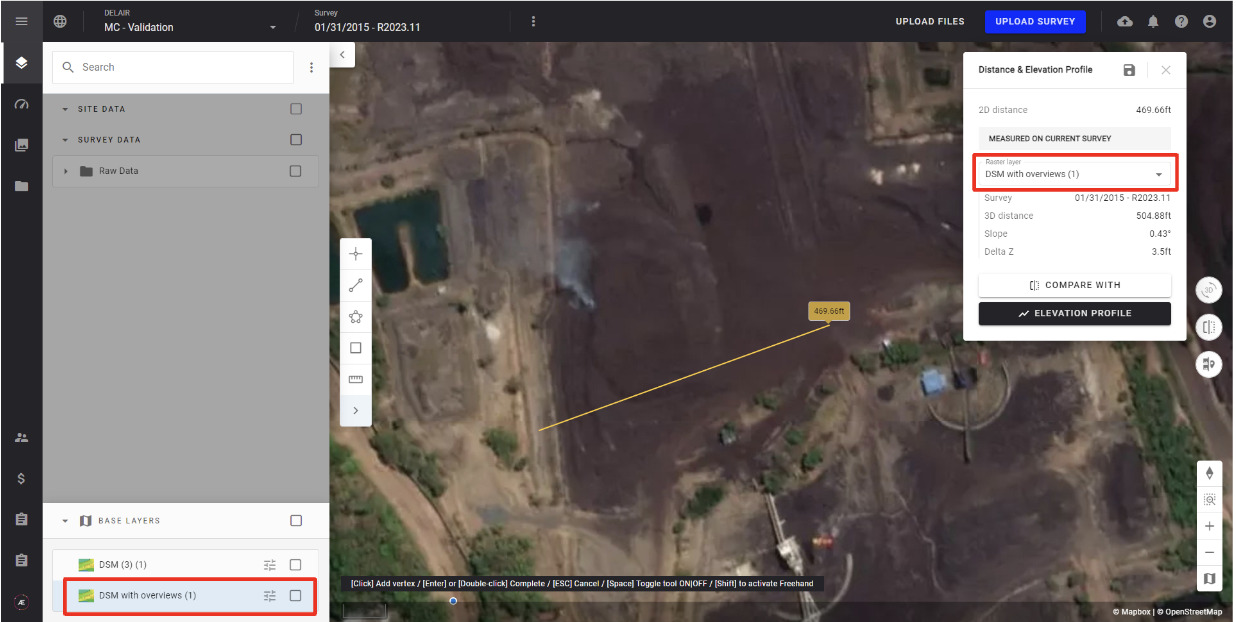 Measurement tools - 3D view
Convert 3D Measurements to Annotations
A new improvement to the 3D measurement tools allows the user to convert their 3D measurements to annotations.
User value : ability to test several measurements in the 3D viewer and convert any desired measurement to a saved annotation for future use or collaboration. This creates a streamlined user journey that is equivalent to how the 2D tools operate.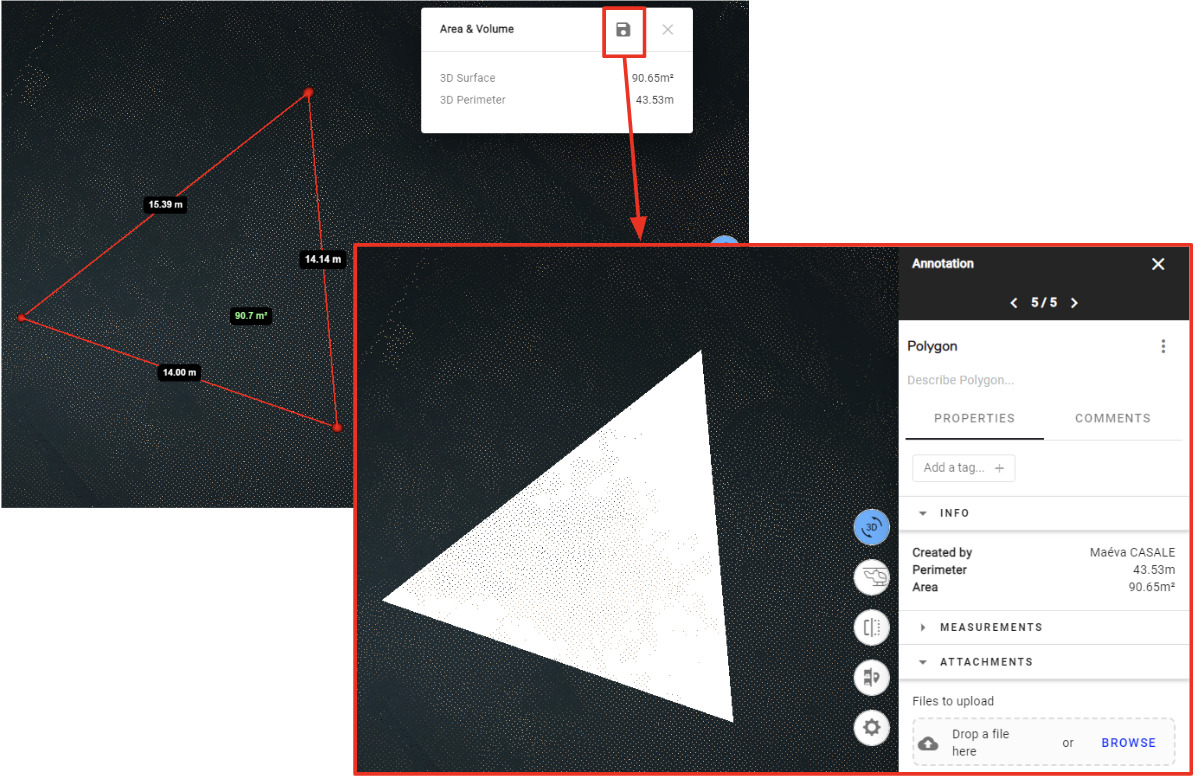 Annotations - Video viewer
A Video viewer available for video files attached to annotations
The video file can be extended to full screen.
User value: capability to visualize and share videos related to customer assets.
Example of use cases:
Construction: m

onitor construction progress and share it to stakeholders

Mines: s

tore and monitor recorded blasting operations 

Asset Inspection: v

isualize videos of asset inspections

Agriculture: record videos related to plant observations and attach them to corresponding areas of interest.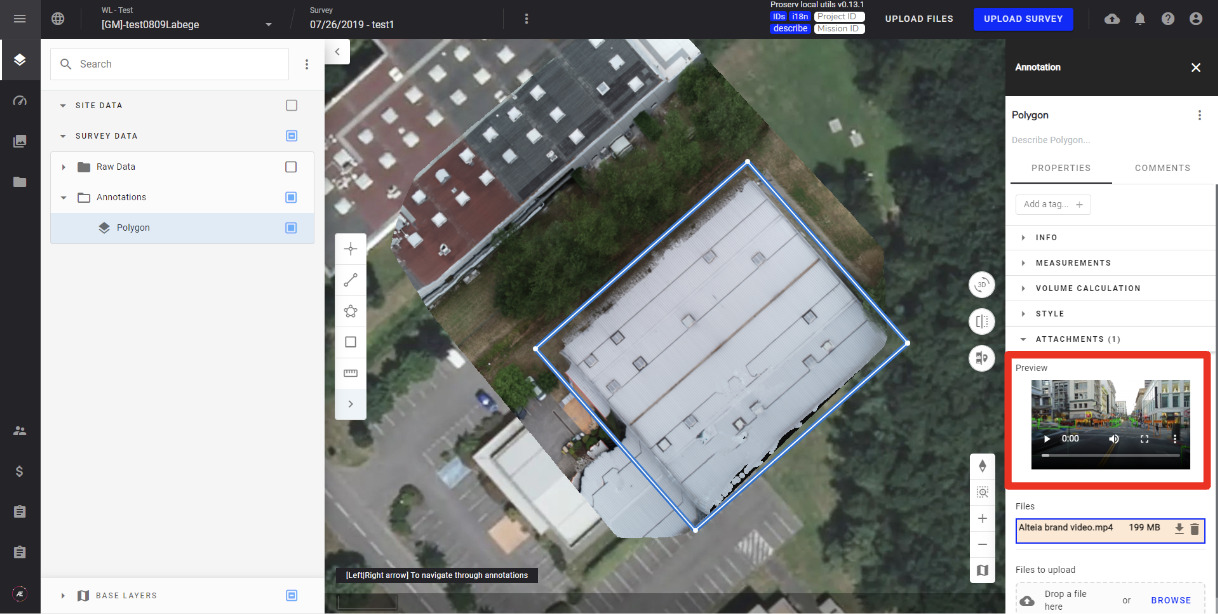 Layers Menu - Go to Download
Quick Access to File Downloads
A new layer management improvement provides the user with quick access to download their data.
For raster, point cloud, and mesh files the "Go to download" function is available in the menu for each layer and will direct the user to a pre-filter download menu to isolate the target file for Download or Export.
User value: this feature improves data management for complex sites and allows for a much smoother experience when preparing data for integration with external softwares and workflows.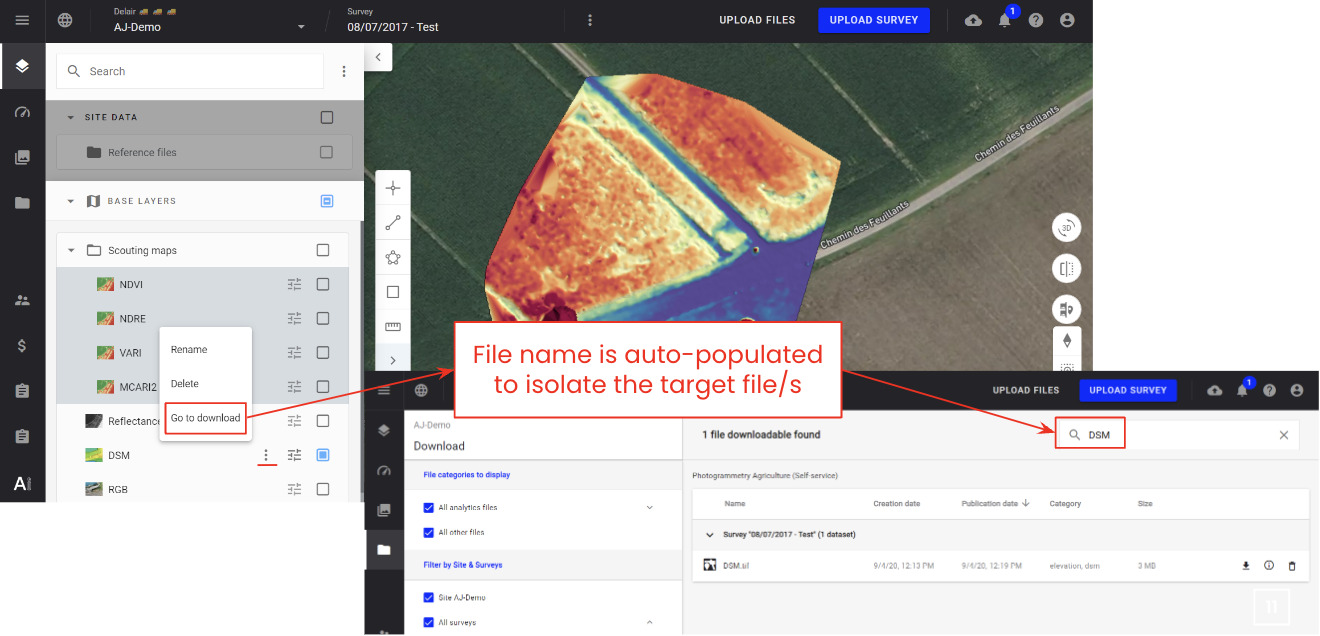 User and Company Management
Enterprise licence customer
Domain management
Domain managers will be able to manage a new property: "company tag"
User value: for example, resellers can automatically link their usage per company to their customer account in their ERP.