Mining & Aggregates
novembre 4, 2020
How Cemex Implements Digital Transformation for Quarry Operations in France With Alteia, The A.I and Data Management Platform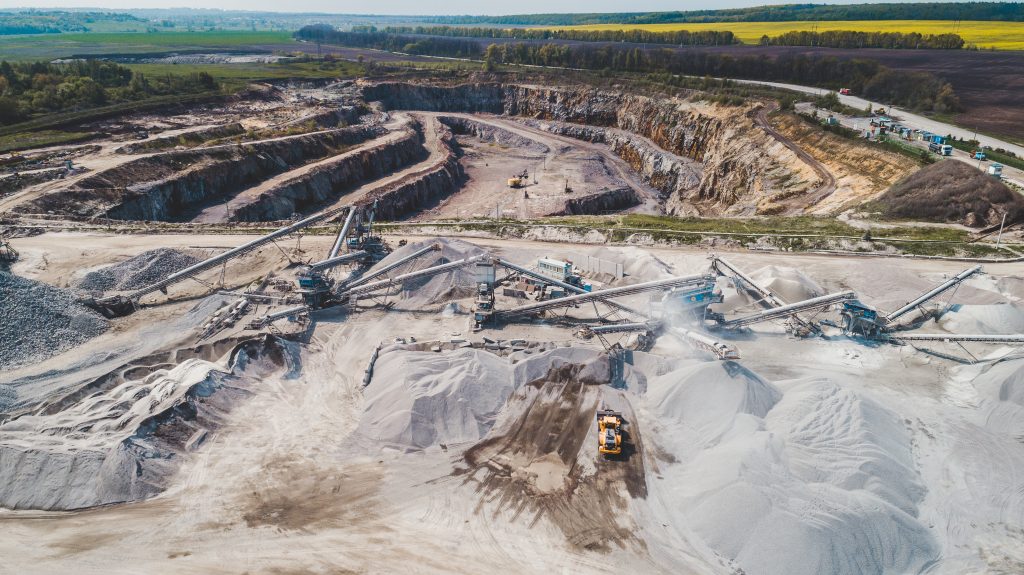 Enhancing employee autonomy and collaboration with digital twins
The quarry digital twins made from aerial imagery is inherently realistic. That's why site managers unanimously appreciate having access to the virtual version of their quarry. It gives them a deeper and more global understanding of site transformation, which is key for production monitoring. "I can monitor extracted volumes of materials more closely, more frequently, in a faster way," says Alexandre Liegeon.
2D view of a Cemex quarry in Alteia
Teamwork and collaboration with contractors has been transformed with a realistic bird's eye view and 3D model of the quarry created in Alteia. "The quarry digital twin is more meaningful. When we talk about production and operations with my team, Alteia enables us to go straight to the point. We understand each other more rapidly compared to when we used 2D maps with contour lines, " says Alexandre Liegeon.
Alteia made digital transformation happen for operational teams. It helped Alexandre to better do his job managing multiple sites. "I work faster thanks to instant access to data. I save valuable time, as Alteia has streamlined my daily operations and the way I work on mid-and long term projects, " says Alexandre Liegeon.
But no one is left on the sideline of the digital transformation journey. "I'm pleased to see that the solution has been smoothly adopted by my team. It works with a web browser and the user interface is simple so that anybody can use it, " adds Alexandre Liegeon.
Empowering staff to prepare projects more effectively
Preparing projects and investments has improved due to the digital transformation at CEMEX. One example is conveyor belt installations. 
Quarry managers can sketch the layout of the conveyor in the digital twin to compare different options based on the length, height, and grade measurement they can perform autonomously. "I can provide better specifications and meaningful diagrams to my suppliers. It's easier and faster for them to bid, as I provide more context and accurate data. I feel more confident in the technical and financial estimation I get from them. "
Another example is the installation of a new tire wash station, which implied redesigning the truck circulation circuit on the site. This was easy and quick to layout using the digital twin and annotations in Alteia. The quarry team was able to prepare the project without relying on an external surveyor, reducing costs and minimizing project delays.
CEMEX land developers also use Alteia to prepare specifications for service providers. 
Some archaeological diagnoses are regulatorily required on some sites before starting extraction. Land developers don't need to call for surveyors to collect the data they need, nor even go onsite just for this purpose. With just a few clicks in the quarry digital twin, they can get the data they need. They share meaningful orthophotos and DSM snapshots with providers, saving time and money while adding more context to the service request.
Safety managers also use Alteia to sketch pedestrian routes, crossing locations, stop signs and stop areas for trucks, to name a few. Because haul roads and pedestrian circulations have to be redesigned for safety purposes to adapt to the constantly changing shape and topography of quarry sites, safety managers have become more autonomous. As everyone has access to Alteia, gathering feedback from all internal stakeholders is easier than using traditional topographic maps.
Enhancing quarries compliance management with A.I and cloud-based maps and models
Jacques De Moustiers is in charge of land development and compliance for all CEMEX sites located in the northern half of France. He and his team of 10 now oversee operations that are subject to regulatory constraints with Alteia.
Simplifying and easily adapting the communication and implementation of the quarries' reclamation plan
The reclamation plan is one of the key elements to secure operating permits. CEMEX not only must comply with the plan, but must also demonstrate and communicate compliance status to administrations and local communities.
The process involves measuring backfilling progress and sticking to the landform defined in the reclamation plan. DSMs are compared with the reclamation plan design on a regular basis. 
"Back in the day, we sometimes had to deal with costly discrepancies we had to correct with unplanned earthwork. We are now able to better anticipate earthwork and manage temporary storage. We now can constantly keep the landform compliant with the plan, as we always have a DSM faithful to reality available in Alteia, " says Jacques Demoustiers.
Backfilling volumes are also monitored on a regular basis at the quarry level against the limits defined by regulations. Frequent drone surveys help CEMEX avoid going above and beyond to stay compliant. "I often compare the current situation with the DSM of the reclamation plan. On some sites the goal is to restore the agricultural use of the land, or create ponds and wetlands. It's easy to detect deviations, but Alteia helps foresee the quarry's transformation further in the future, which is hard to imagine with traditional 2D survey plans, " says Alexandre Liegeon.
Alteia is instrumental in updating and adapting reclamation plans with confidence. "In some cases, as the reclamation plan was developed 10, 20 or even 30 years back, we have to update it to adapt to the changing context of our local environment. With Alteia it's easy for us to make simulations and choose the best option to achieve our reclamation goals, "says Jacques Demoustiers.
Improving occupational health and safety
CEMEX leverages A.I analytics to quickly analyze safety issues in its quarries. Algorithms help demonstrate that all the high wall heights, haul roads grades, etc. comply with regulations in a visual and easily understandable way.
According to Jacques Demoustiers, drone data and A.I have increased confidence in compliance status analyses. Land surveyors used to avoid dangerous areas such as high wall crests to perform ground measurement. As a result, they were only able to harvest partial data. Henceforth, drone surveys deliver accurate data about any point of the site, meaning that compliance can be verified with more accuracy.
Enhancing biodiversity management as part of a corporate sustainability commitment
Natural habitats' restoration and biodiversity development are another domain to address in reclamation plans. It's also a longstanding commitment of CEMEX toward sustainability, especially given the status as an ISO14001 certified company of CEMEX France. Collaboration with ecological experts became more intense and more effective with frequent and accurate aerial data available. For example, field observation campaigns are now triggered at the right time and focus on the most relevant locations thanks to frequently updated aerial imagery. In this domain too, the decision process has been streamlined thanks to Alteia.
Demonstrating compliance in an easy way
2D and 3D imagery speaks to everyone. Using up-to-date quarry digital twins to communicate with local authorities and land owners has turned out to be a very beneficial method for CEMEX.
"It's easy to reassure them about our compliance by demonstrating that operations are kept within the land boundaries. Georeferenced drone data is trustable. With Alteia, understanding the quarry site condition is quicker and easier for all the stakeholders involved in the compliance process, " says Jacques Demoustiers.
Enabling remote working
Quarry digital twins have been tremendously helpful in making some land development projects move forward, even when onsite visits and meetings became impossible during the COVID-19 lockdown period.
"With Alteia we're able to visualize our areas of interest in our quarries and make all the measurements we need autonomously with the digital twin. We can collaborate and make decisions remotely with a deep connection to the field, " says Jacques Demoustiers.
Top executive managers overseeing multiple sites spread across a country or a region can also benefit from virtually accessing any quarry. Investments and long term strategy take an important place in top managers activities as well as discussions with business partners and co-investors. Quarry digital twins have proven to be very useful in this context as well.
"As I have more than 40 sites under my responsibility, it's obviously impossible for me to visit each of them every week. Alteia is very helpful for me to remotely manage all my quarries. Especially during business and operations meetings, I can share and display the quarries' digital twins. The realistic and up-to-date global view of the sites make discussions and brainstorming more connected with the reality of our sites, " explains Benjamin Lecendrier.
Why CEMEX choose Alteia
Fast implementation thanks to a cloud infrastructure.

Simple user adoption thanks to a user-friendly interface.

Simple workflow from drones to 2D maps and 3D models.

Wide range of measurement tools.
Data aggregation capabilities to layer land boundaries and reclamation plan design on top of quarry maps.

A.I-powered business insight for inventory management, safety, and quarry design compliance.

Future-ready platform to leverage more data and go further into Artificial Intelligence.
How CEMEX benefits from data management and A.I-enablement capabilities of Alteia?
Always up-to-date data of quarry current condition.

Increased employee autonomy, empowerment and productivity.

Simpler and faster quarry operations monitoring.

Enhanced collaboration across sites and remote locations.

More efficient project management.

Easier compliance status monitoring and communication.

Increased safety.
  Automatic stockpile identification and measurement in Alteia
Planning and monitoring stripping operations more autonomously and accurately
Stripping earthworks are outsourced at CEMEX. Collecting the right survey data to prepare bidding used to be a long and complicated process with traditional ground methods. Quarry managers had to spend time on phone calls and paperwork to appoint a surveyor. Sometimes the job had to be postponed because of site conditions (especially during flood season). Surveyors were only able to deliver 2D plans, which were not convenient for performing volume calculations.
"Drone surveys are faster and more convenient. The DSMs, orthophotos and change maps delivered by Alteia enable me to make all the volume and surface calculations I need when I need them, in a matter of minutes. I don't rely on the surveyor to prepare and monitor stripping operations anymore. I feel more independent and autonomous so I can monitor how things are going more closely, " says Alexandre Liegeon.
Alteia helps CEMEX quarry managers get the data they need from drone surveys to agree with earthmoving contractors on moved volumes. Validating interim and final billing is faster and less prone to conflicts with contractors.
Exploiting the production potential of the quarry to its maximum capacity
Quarry managers are always looking for ways to make the most of a site's resources. Color scaling on Digital Surface Models of quarries helps them assess whether extraction has reached the exact altitude to avoid leaving valuable material. For underwater materials in alluvial quarry sites, CEMEX uses bathymetric survey data in Alteia.
"I've been able to discover by myself that we had left some sand in one area of ​​the river bed. I took the decision to require my contractor to resume the extraction. I used Alteia to show them the location of the extraction area and the depth to reach. I feel empowered, as I can use the data autonomously to be more responsive to production challenges, " says Alexandre Liegeon.
As part of the global strategy, CEMEX in France has led the way in putting digital transformation into action for quarry operations and compliance management. Starting from survey digitization with drones, CEMEX now uses quarries' digital twins for remote and enhanced collaboration on projects and for production management. This laid the foundations to use Artificial intelligence for inventory management, safety, reclamation and quarry design compliance.
Moving quarries into the digital era
CEMEX is a leading global company in the construction materials industry. They manufacture and distribute cement, ready-mix concrete and aggregates to more than 50 countries worldwide. CEMEX currently employs more than 40,000 employees and operates 262 quarries at international locations. 
The adoption of Alteia at CEMEX in France has its origin in the company's commitment to digital transformation. For this objective, CEMEX has launched two significant strategic transformational projects.
The first initiative aims to digitize customer relations . Back in 2017, CEMEX started to deploy CEMEX Go globally, a state of the art industry-first digital platform that automates order-to-cash workflows allowing customers to purchase products, track deliveries and manage orders seamlessly. In France, CEMEX is also digitizing the regulatory compliance process related to construction waste disposal in quarries.
The second is about transitioning to a "connected quarry" model . "We've chosen Alteia to be the central hub of our topographic data to not only centralize our initiatives related to this ambitious and transformational strategic project, but also to leverage big data analysis and AI capabilities of the platform. The next step will be to address trucks and machine efficiency optimization using telematic data. " explains Benjamin Lecendrier , director of Production and Joint-Ventures at CEMEX France Nord.
Quarry operations management is largely based on topographical data. Before embracing digital technologies, site and operation managers at CEMEX used to work on paper maps. This made collaboration complex because sharing an up-to-date version of the quarry maps across the organization was practically impossible. People were often working on different versions and even outdated quarry plans. In addition, communicating an accurate safety compliance status of quarries to local authorities was a manual, resource-intensive and complicated process due to parcellar data. Moreover, for any surface and volume measurement, the only option available was to use costly CAD softwares requiring a high level of competence that few people had in the company.
So when CEMEX introduced Alteia, "[the] production teams were very enthusiastic about having a dedicated cloud platform to go paperless. When along the way we required drone surveys from our contracted surveyors, they were initially a bit reluctant. But they quickly understood the value of these new tools and they joined us in our digital transformation journey with Alteia. Other departments such as land development and teams in charge of new projects quickly jumped on the opportunity offered by Alteia to easily collaborate with quarry operations teams, " says Benjamin Lecendrier.
Modernizing quarry management with AI and cloud-based maps and models
Among all the CEMEX sites that are onboarded on Alteia, Alexandre Liegeon manages six of them in the greater Paris area. Its sites produce 2 million tons of aggregates yearly on average. He explains how Alteia has transformed the way and his team works.
Accelerating and streamlining inventory management
The digital transformation of CEMEX quarry operations using imagery started with stockpile inventory. Surveying methods now rely on drones, which fly at least quarterly over CEMEX quarries. The rest of the workflow occurs in Alteia, from data processing to automatic analysis.
"Every quarter I have a clear picture of my stocks and it's very easy to meet my accounting department requirement. They need this data for financial reporting purposes. I used to spend so much time filling-in a spreadsheet from the topo surveys! Alteia algorithms automatically identify stockpiles for me in the digital twin, calculate tonnage, and deliver a stock report in a tabular format. Inventory is by far faster, and I can dedicate my time to other tasks, " says Alexandre Liegeon, Production Manager at Cemex France.